Garage Door Repair Lincolnwood
Call Us Now 847-462-7078
Our specialist team provides a full range of garage repair services to doors of all brands, makes, and sizes. The professionally trained technicians in Illinois are equipped with advanced tools and replacement parts of top quality which achieve top results every time.
Some of the brands we provide service for:
Genie, Liftmaster, Sears, Craftsman, Allister, Chamberlain, and more!
Address:

W Touhy Ave
Lincolnwood

,

Illinois
Zip code:

60712
Hours of Operation:
We accept cash, credit cards, and checks.
With our specialized knowledge of the latest electric operators, we guarantee exceptional garage door opener services. We also excel in overhead door maintenance
Are you in need of a Garage Door Company in Lincolnwood?
The best garage door company is Garage Door Repair Lincolnwood they are available to give the best service around. Our technicians are trained to take care of all of your garage door problems, Including installing, replacing, maintenance and repairs. We only carry the best products available; our trucks are well stocked, so we can give the one day service that we guarantee.

Lincolnwood IL. Is a village in Cook County with a population of 12,000 residents that is a lot of garage doors? Garage Door Repair Lincolnwood would be glad to handle your entire garage door repairs. We are proud to serve the community of Lincolnwood and be the best Garage Door Company in the area. We stride to please all of our customers.
Garage Door Springs- there are two types of springs, torsion and extension. The torsion is mainly used for heavier doors such as steel. The extension is used for lighter doors such as aluminum. Both springs can be difficult to install and should be installed by the professionals at Garage Door Repair Lincolnwood.
Garage Door Openers- are great to have, our technicians at Garage Door Repair Lincolnwood install the best garage door openers available like Sears, Genie, Liftmaster and chamberlain. Three drives are available with the door openers such as the chain, belt and screw. The screw drive is slow; the chain is the most popular but very noisy, the belt drive is the quietest but the most expensive.
Maintenance and Adjustmentsare something everyone with a garage door will need. Without maintenance and adjustments your garage door will need lots of repair. Call a technician from Garage Door Repair Lincolnwood to come out and service your garage door and parts. By making all the adjustments needed and lubricating all moving parts your door will operate fine.
The garage door remoteis something you will need if you have a door opener, the two go together hand in hand. There are different types of remotes such as Liftmaster security and Genie Intellicode.
Garage door sensor is something that should be installed on all garage doors for the safety of your family and animals. The sensor is easy to install and a skilled technician from Garage DoorRepair Lincolnwood will be glad to come and install the sensor and show you how it works.
Garage Door Repair Lincolnwood will handle all of your Installation and Replacement issues. Our company is the best garage door company in Lincolnwood. We install all types of garage doors including glass garage doors.
Garage Door Repairs can involve many different repairs to your garage door. Such as the springs, tracks, cables and repairing the door itself by replacing damaged panels or perhaps replacing a broken window.
* Genie opener repair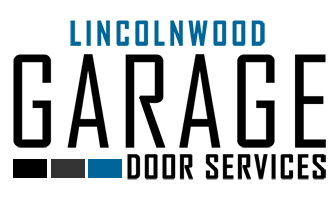 * Door off track
* Broken emergency release
* Broken garage door spring
* Bent garage door track repair
* Garage door replacement
* Repair garage door cable
Garage Door Repair Lincolnwood can replace your cables and tracksin one day. These parts really take a beating and can be damaged, the cables can break and the tracks may bend enough to throw the door off the track. The technicians at Garage Door Repair Lincolnwood can handle any type of repairs that you have and repairing your cables and tracks are just a few of the many repairs we handle.